The Executive Board is to act on behalf of the SAA Governing Council and provide effective oversight and review of SAA's operations, management, finances, and the brand ICASA. The Executive Board consists of eight individuals, including the three officers (the President, Vice-President, Secretary-General, Deputy-Secretary-General, Treasurer and Deputy-Treasurer) and two elected members.
Hon. Dr. David Pagwesese Parirenyatwa
President
Hon. Dr. D. P. Parirenyatwa qualified as a medical doctor from the University of Lagos Teaching Hospital (LUTH) in Nigeria.
He has wide experience working in both the Private and Public Health Sectors.
Parirenyatwa served as Deputy Minister of Health & Child Welfare (4yrs) and then as Minister of Health (12 yrs.), in Zimbabwe, where he championed the fight against HIV & Aids.
Parirenyatwa hails from a medical family. His father the late Dr Tichafa Samuel Parirenyatwa was the first African (black) doctor in then Rhodesia (Zimbabwe). The largest referral hospital in Zimbabwe was named after the late doctor. One of Parirenyatwa's sons is also a doctor.
Parirenyatwa has chaired the African Union Health Ministers and also the SADC Ministers of Health.
He is a past President of the World Health Assembly, the governing body of the WHO.
He chaired the UNAIDS board and co-Chaired ICASA 2015 in Zimbabwe.
Parirenyatwa is a Fellow of the College of Primary Care Physicians (Zimbabwe).
He promotes Continuing Medical Education and Medical Research including Traditional Medicine and is the past chairman of the Medical Research Council (MRC) Zimbabwe.
He specialises in Health Policies and Health Strategies and is the Executive Director of Chest Medical.
Parirenyatwa is the immediate past Vice President of the 6th SAA Executive Board.
He is a Senator in the Parliament of Zimbabwe.
Professor Mohamed Chakroun
Vice President
Mohamed Chakroun is Medical Doctor, specialist in infectious diseases. He's currently Hospital Practitioner supporting PLWHA, Head of the Infectious Diseases Department at Fattouma Bourguiba Teaching Hospital and University Professor teaching in the Medical School of Monastir, Tunisia.
He has diplomas in clinical management of HIV/AIDS as well as leadership and management from the University of Washington (USA).
He's a national and regional consultant on HIV/AIDS, having provided several training on HIV testing, Antiretroviral Therapy (ART), management of Opportunistic infections (OIs), and PMTCT in Tunisia and in countries of the Eastern Mediterranean Region (EMR). He was author of several national and regional manuals and guides on HIV/AIDS (HIV testing, ART, PMTCT, PrEP, Therapeutic Education) and several national and international publications on HIV/AIDS.
He was scientific coordinator of the Tunisian Guidelines on ART in 2010, 2013 and 2020. He was peer reviewer for WHO consolidated guidelines on HIV prevention, treatment, and care for key populations (2014) and member of WHO Guideline Development Group for the use of antiretrovirals and pre-exposure prophylaxis since 2014.
He's chair of CCM Tunisia, member of the Ethics and Governance Committee and Alternate board member at the Global Fund for the EMR.
He participated in International Visitor Leadership Program for HIV/AIDS education and prevention in USA, 2012 and in several international conferences on HIV/AIDS including ICASA 2009, 2015, 2017, 2019.
Dr Aliou Sylla
Secretary-General
Founding President of Arcad-Sida Mali, Director of the Africa Bureau and Networks for Coalition Plus
Dr. Aliou Sylla was a pioneer in implementing Mali's community health policy and served as the Physician-Director of the "ASACOSEK" community health center for 5 years. He was the founding President of ARCAD-SIDA, the most important non-profit organization offering treatment to PLWHA in Mali (1994-2016). For about a decade, he also served as the Director of CESAC, Mali's largest HIV treatment center. He was a major force in increasing the visibility and empowerment of PLWHA through the creation of the Malian Network of PLWHA (RMAP+) and support to the African Network of PLWHA (RAP+). He also served as Coordinator of the Ministry of Health's AIDS program for 10 years. He is a dedicated activist advocating for Human Rights and access to healthcare, prevention, and treatment for PLWHA. He also serves as an Expert/Consultant for and member of many scientific committees for the WHO, UNAIDS, and ANRS in the field of HIV and viral hepatitis. He was named Director of the Africa Bureau and Networks for Coalition Plus three years ago, working on advocacy, skills development, community research, resource mobilization, and good governance. He has received several honors including the Officer of the National Order of Mali Medal and the Knight of the Order of Malta.
Prof. Morenike Oluwatoyin Ukpong
Treasurer
Prof Morenike Oluwatoyin Ukpong has competency and experience with gender mainstreaming into policies and programs, and programming for key and vulnerable populations including adolescents and young people. She has been a team member, co-lead or lead – in the design and implementation of at least 60 technical reports in the last 20 years; had been engaged with the development of national, regional and international strategic plans, guidelines and documents; and has experience conducting monitoring and evaluation projects including working on global fund projects. In addition, she has vast experience with conducting translational research that has significant import for HIV prevention and the sexual and reproductive health of adolescents; and experience with research ethics and governance including being a member of the CIOMS Working Group on Principles of Good Governance for Research Institutions. She has participated in several agenda‐setting initiatives relating to HIV prevention and ethics issues including being the Chair of the ICASA 2015 Community Programs Committee, Track C Committee member of the 2016 IAS Conference, Track D co-chair for the 2018 IAS conference and Track E Chair for the ICASA 2019/2021 conference. She has several organizational development experiences including her role as the Coordinator of the New HIV Vaccine and Microbicide Advocacy Society whose affairs she successfully steered for 16 years from its inception; member of the Peer Review Forum, a coalition of civil society watchdogs overseeing the national HIV response; CASPR, an African Coalition of organizations fostering HIV prevention advocacy in Africa, and AfrNI, an African focused civil society coalition promoting domestic resource mobilization and ethical HIV prevention research conduct in Africa. She currently works as a researcher with the Obafemi Awolowo University, Ile-Ife where she is listed as the 2021 topmost research publisher in the institution and one of the topmost 2% researchers in the world in 2021 by the Standard University Ranking.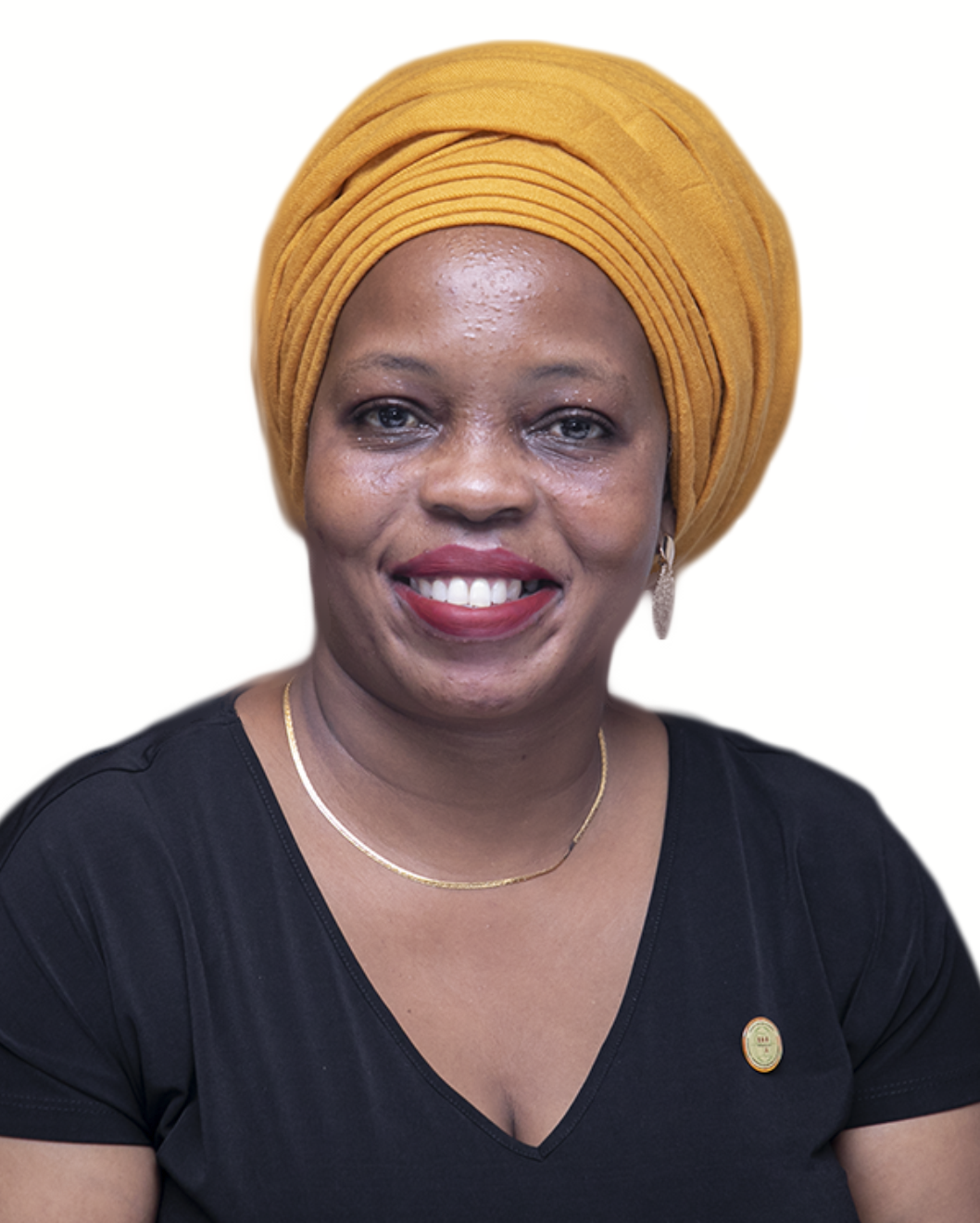 Hon. Wamala Florence Nambozo
Deputy Treasurer
Hon Wamala Nambozo Florence Mayoga is a Ugandan politician, born on 14th February 1975, a Born-again Christian by faith and a Teacher by profession.
Hon Florence is a member of the Parliament of Uganda as the current District Woman Representative for Sironko District, elected 2016-2021 and re-elected 2021-2026. She is a celebrated member of Uganda's ruling political party, the National Resistance Movement (NRM). In the Parliament of Uganda, she serves as a member of the Committees on Human Rights and Science and Technology.
Hon Florence also is the former Chairperson of the HIV/AIDS Committee of the Ugandan Parliament where she served for two consecutive years after serving as the Deputy Chairperson of the same committee two years prior. In that role, she spearheaded the Ugandan parliament in the oversight role to ensure that government programs concerning HIV/AIDS and related diseases were successfully implemented, while monitoring their progress, and working very closely with both national and international stakeholders such as UNAIDS and PEPFAR to see that they achieve the 95-95-95 goal in Uganda by 2030. As a parliamentarian in that role, she oversaw the enactment of favorable laws and policies to govern the management of HIV/AIDS and related diseases in Uganda.
Back in Sironko, she is a great philanthropist and successful lobbyist.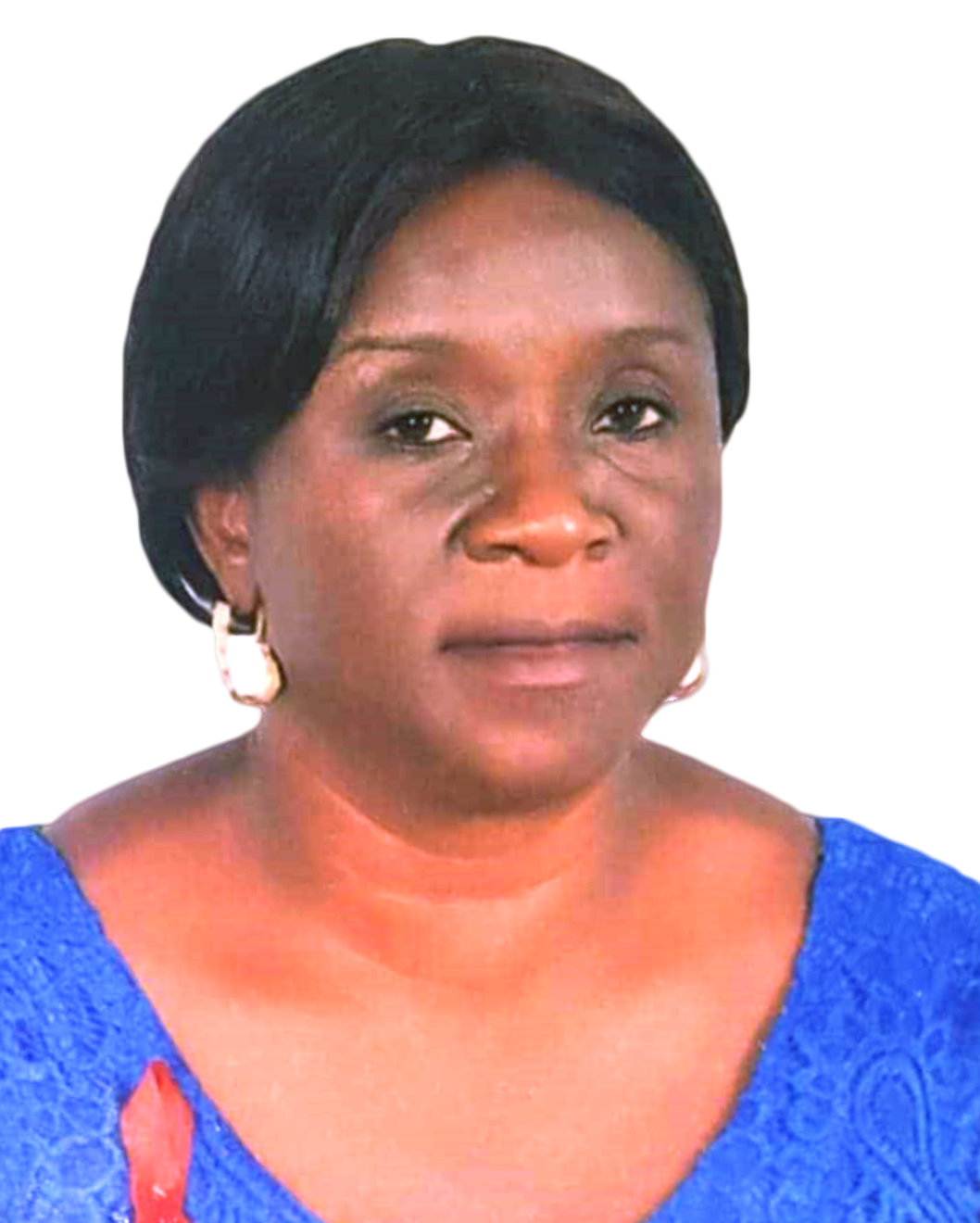 Dr. Ilunga Ina Mutombo Eleonore
Member
She holds a master's in public health, Doctor of Medicine with a long professional experience (31 years) in clinical health and in the programming of health activities as a Medical District Officer for a long time.
As the Provincial Executive Secretary of the National Multisectoral AIDS Control Program (PNMLS), and thanks to my experience, I have a good knowledge of the national health system:
Management, Work with donors, Coordination of partners, Experience with international organizations, training experience and Community experience Indeed,
She worked successively as an attending physician, hospital director and chief physician for ten (10) years (1990-1998), as a District Epidemiologist with the World Health Organization, WHO; as a Coordinator of the National Adolescent Health Program (PNSA) for six (6) years, from 2008 to 2013;
She worked with United Nations agencies and several partner NGOs and ASBLs such as PROVIC, SANRU, USAID, UNICEF, the World Bank, the Global Fund.
Since 2016 she is the focal person in the Border Wellness Sites in the SADC Region for the DRC, HAUT KATANGA PROVINCE
She is a Provincial trainer in several themes including Training of young people and adolescents on several themes related to the sexual and reproductive health of adolescents and young people within the framework of the UNICEF.
She worked for skills building and knowledge transfer for young people and adolescents in particular;
She is a member of the Provincial Coaching Team for quality assurance of care in the area of nutritional support for people living with HIV
In addition to the long and rich experience in the field, the Leadership Developing Program (LDP) training allowed me to acquire strong capacities to work both independently and within a team, to effectively manage several activities by prioritizing them according to their importance, relevance and deadline.
Dr. Emmy J. Chesire
Member
Dr. Emmy Chesire is a Deputy Director at the National AIDS Control Council – Kenya, providing Technical Advisory to the Office of H.E The First Lady of the Republic of Kenya on HIV and AIDS and the Elimination of Mother to Child Transmission of HIV and Syphilis programme (July 2021 to date). Before, Emmy was the Deputy Director, Coordination and Support responsible for providing leadership, program design, planning and resource mobilization, coordinating partners in implementation of programs in the national HIV response (October 2014 – June 2021). Emmy also served as a Senior Advisor, HIV Prevention at the UNAID – Kenya, seconded to work for National AIDS Control Council (NACC) (June 2012 – October 2014). Her work included providing high-level technical expertise and policy advice, advocacy, leadership, coordination, resource mobilization and the building of effective and strategic partnerships to drive the HIV Prevention agenda in Kenya. She was also assigned the role of coordinating the Beyond Zero Campaign activities of H.E The First Lady of Kenya. Prior to joining NACC, she served in several positions including being the Chief Principal at the Kenya Medical Training College, Nairobi Campus.
Dr. Chesire has been an active member of ICASA Steering Committee from 2018 to date. She played an active role during the various meetings while planning for the successful ICASA conference in Kigali, Rwanda in 2019, and ICASA 2021 in Durban, South Africa.
Emmy holds a Doctor of Philosophy Degree in Public Health from Jomo Kenyatta University of Agriculture and Technology (JKUAT) – Kenya; Master of Public Health in Community Health and Nutrition from Kenyatta University – Kenya; and Masters in Education in Primary Health Care from Manchester University – United Kingdom among others. She has published in refereed journals and has been involved in the development of several HIV and AIDS Policy and strategic documents and guidelines in Kenya.