ANNOUNCEMENT OF ICASA 2023 PRE-SELECTED COUNTRIES
webAdmin
The Society for AIDS in Africa (SAA) extends our appreciation to the 5 bidding countries for their interest in hosting the 22nd edition of the International Conference on AIDS and STIs in Africa (ICASA). All submitted bids were very competitive.
We are pleased to announce that Republic of Kenya and Republic of Uganda have been preselected by SAA paid members to proceed to the second stage of the selection process for the ICASA 2023 host country. Out of 635 paid members for the year 2022, only 234 were able to cast their votes.
The selected host country will be announced after the assessment visits to Kenya and Uganda.
The Society for AIDS in Africa is grateful to all African governments, all stakeholders and especially SAA paid members for their dedication in facilitating the process of preselection of ICASA 2023 host country.
ICASA 2023 PRESELECTION RESULTS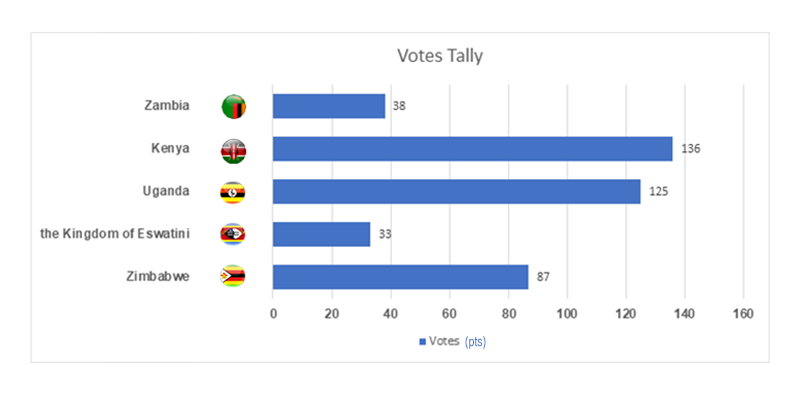 ANNONCE DES PAYS PRE-SELECTIONNES POUR ABRITER ICASA 2023
La Société Africaine Anti-Sida (SAA) exprime sa gratitude aux 5 pays qui ont manifesté leur intérêt à abriter la 22ème édition de la Conférence Internationale sur le Sida et les IST en Afrique (ICASA 2023). Tous les dossiers de candidature soumis étaient très pertinents.
Nous sommes heureux d'annoncer que la Republique du Kenya et la Republique d'Ouganda ont été présélectionnés par les membres actifs de la SAA pour la deuxième étape du processus de sélection du pays hôte qui abritera ICASA 2023. Sur les 635 membres actifs de l'année 2022, seuls 234 ont pu voter.
Le pays hôte sélectionné sera annoncé après les visites d'évaluation du Kenya et de l'Ouganda.
Nous aimerions exprimer notre reconnaissance à tous les gouvernements africains, aux parties prenantes et en particulier aux membres actifs de la SAA pour leur dévouement à faciliter le processus de présélection du pays hôte de ICASA 2023.
RESULTATS DE LA PRESELECTION DE ICASA 2023